From Barry's to Krank, Title Boxing to Shakti or BarreAmped to the Dailey Method, there is no shortage of amazing workouts in Nashville. What you might not realize, however, is that one of Nashville's top studios is right in Vandy's backyard. The Vanderbilt Rec Center offers a myriad of group fitness classes that are sure to have you sweating and feeling the burn in no time. The best part is that you have access to all of these amazing classes with just a swipe of your Commodore Card. In case you've never been, or aren't sure what classes to start with, we've decided to break it down for you. Here's our Top 10.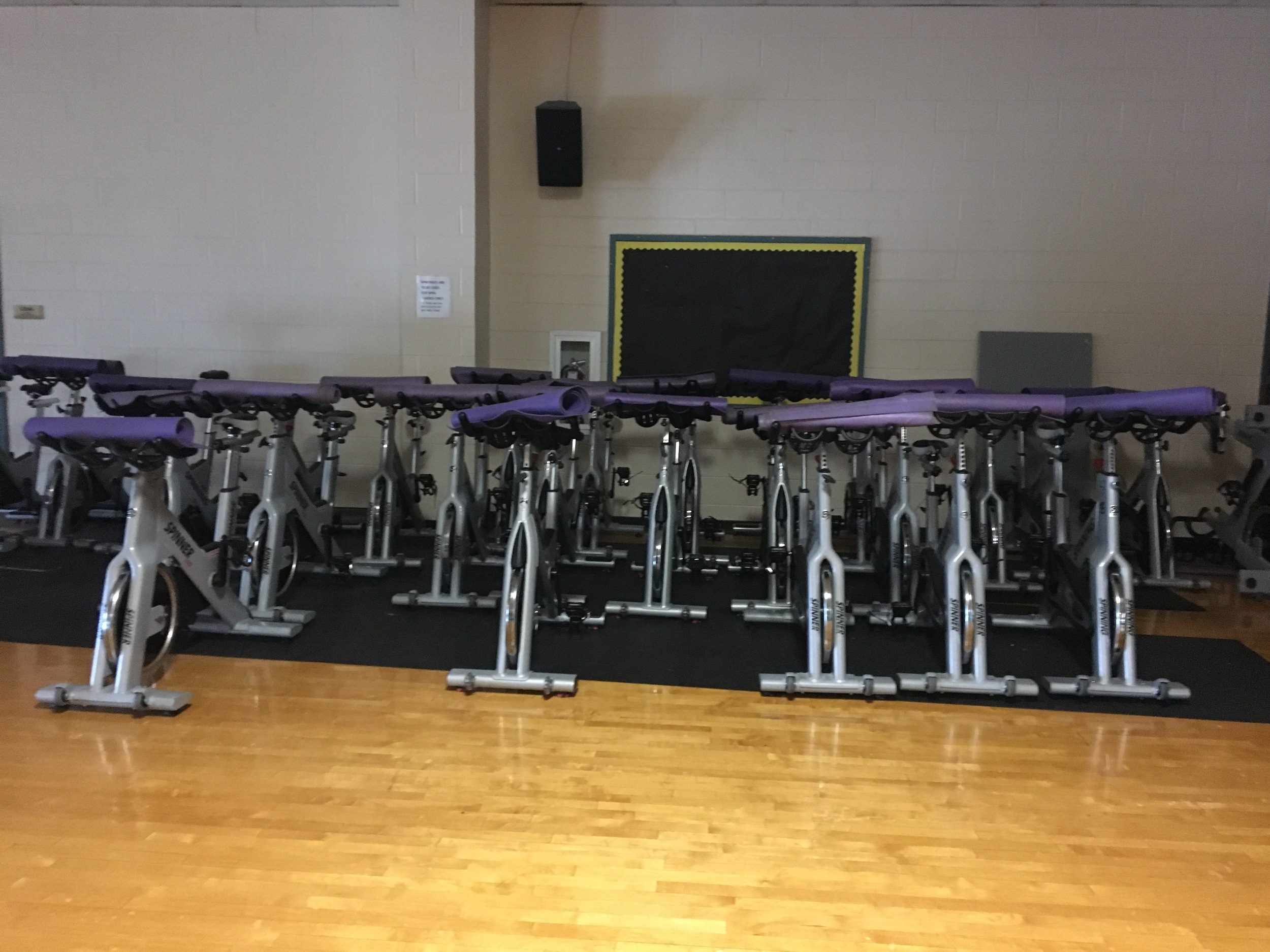 10. Vinyasa Yoga with Jessie
Fridays, 4:15pm-5:15pm
This class is great if you're looking to de-stress after a tough week of homework and classes. It focuses on stretching, alignment and mental awareness. While this class is great for peace of mind and relaxation, it ranks low on the sweat scale, and probably isn't ideal for someone looking for results.
Bottom Line: Come to get your zen on. If you're looking for more of a workout, we suggest heading over to Shakti or Hot Yoga Plus.
9. TurboKick with Mark
Tuesdays, 5:15pm-6:15pm; Wednesdays, 6:30pm-7:30pm
This class is super fun and the instructor is hilarious. Turbokick is a form of kickboxing that goes through rounds of different combinations with specific music for each workout. It combines kicks, punches and cardio with a round of abs at the end. The class is fun and upbeat, but the instructor offers a lot of modifications, so for a full sweat you have to go 110%.
Bottom Line: Not our favorite, but if you're looking for something to do with friends for a good time, definitely check this out!
8. Power 90 with Alyson
Wednesdays, 5:00pm-6:30pm
I personally am a big fan of this class. It's 90 minutes of cardio (circuits, HIIT, etc), core work, weights and stretching, so you really get everything you need out of this class. It is a bit long, but Alyson does a good job of making the time go by and changes the structure of the class changes each week, so it doesn't get too monotonous. You take a lot of breaks since it is 90 minutes (which can be good or bad), but I always feel like I got a great workout after this class. If you want to round it out to two hours, Alyson's hardcore class (30 min ab class) is right after!
*The Hardbody class taught by Alyson is similar to this with a little less cardio for just an hour.
Bottom Line: If you have 90 minutes to spare, check it out.
7. Barre with Nephie
Wednesdays, 4:00pm-4:55pm
Gabrielle Levitt, A.K.A. the queen of barre herself, said this class was better than one she paid $20 for on 8th Avenue, and that says a lot. You will shake and burn from relevé plies at the barre or arm lifts while in a squat on the mat. Since it is all strength and toning, I like to do a little cardio beforehand just to get my heart rate up (~30 min on the elliptical), but totally not necessary.
Bottom Line: It's no Pure Barre, but it is still an amazing workout.
6. Cycle and Lift with Alyson
Thursdays, 3:00pm-4:00pm
This is not your typical spin class. Cycle and lift combines spinning with different strength training exercises to give you a full body workout. You go on and off your bike switching between hills and sprints to gliding lunges and medicine ball push ups. This class also ends with abs and a light stretch. As with Power 90, different equipment and muscle groups are targeted each week but combined with cycling, you are sure to get a great workout.
*Alyson also teaches regular indoor cycling Fridays, 4:30pm-5:30pm and Saturdays, 9:15am-10:15am.
Bottom Line: If a full hour of spinning sounds like torture, try this class, which uses intervals on and off the bike to work the entire body and break up the time.
5. Indoor Cycling with Johnny
Sundays, 12:30pm-1:30pm; Mondays, 7:15pm-8:00pm; Wednesdays, 7:00pm-8:00pm
Let me just start with the fact that Johnny is an ex-Navy Seal and total badass, so his spin class is nothing less than intense. While this class does not take place in your typical spin studio (it's in a wide open room), his class will have you dripping in sweat. He switches between hills and sprints and incorporates bike push ups and squats. While the class is an hour, you really only ride for 50 minutes which is more than enough since the most you will rest is about 30 seconds.
Bottom Line: Highly recommend if you're looking for a good spin class, and are tired of waiting for SoulCycle to come to Nashville (ugh that pop-up was such a tease).
4. Bootcamp with Johnny
Tuesdays, 4:00pm-5:00pm; Thursdays, 4:00pm-5:00pm, 5:30pm-6:30pm
While I have never actually taken this class, (TBH I'm just really scared), the fact that Johnny teaches it and the praise from those who've taken it, warrants it the #4 spot. It's a super intense workout that incorporates high and low movements, plyometrics and elements from the Navy Seal training program (eek). The class also changes locations so when it's nice out be ready to go on the track or be an intramural field.
Bottom Line: It's a hardcore workout so, as the description says, "be prepared to push yourself and sweat to the next level!"
3. Cardio Dance with Jenny
Mondays, 4:15pm-5:15pm
This class is Zumba but 100 times better. From "Snap Yo Fingers" to rhythmic spanish beats, you will be jumping, moving, laughing, and smiling the entire time. Each song has different choreography that incorporates exercises for each part of your body. There is the classic "squat song" as well as a song with weights, followed by abs at the end. Your heart will be pounding and you will have a GREAT time.
Bottom Line: Go with a friend, a boyfriend, your mother—I guarantee they will #getsweaty and have an awesome time.
2. Ballet Sculpt with Jenny
Mondays, 3:15pm-4:15pm; Thursdays, 6:00pm-7:00pm
If cardio dance was Zumba but better, ballet sculpt is barre's cooler, more outgoing older sister. Taught by our girl Jenny, Ballet Sculpt utilizes the ballet barre for leg lifts, kicks, and squats to work your hamstrings, calves and quads. Before heading over to the barre, Jenny will make your glutes burn with a series of plié exercises. Your arms are always working either from using weights or just from holding them up in ballet positions through the various other exercises. The class also incorporates some cardio with jumps and a cardio arm song to pump up your heart rate. The class ends with an ab routine and a round of stretching.
Bottom Line: Want a ballerina boy? Check this out.
1. Cardio Chisel with Jenny
Thursdays, 4:30pm-5:25pm
If you haven't caught on, Jenny is unreal. This class uses different equipment (BOSU balls, dumbbells, bands, etc.) to work all parts of your body while also getting a great cardio workout. Jenny usually uses Tabata training, which is a type of high intensity interval training (HIIT) where you repeat different exercises for about 30 seconds with a minute rest in between. Besides Tabata, Jenny also incorporates some songs from her cardio dance class (squat song all day erryday) and ends with abs.
Bottom Line: This class hits every muscle in under an hour. What more more could you want?!
Hopefully this list has inspired you to check out the Rec and try one of these amazing classes! There are a ton of other classes offered that we didn't mention. Check out the schedule and pick one that seems best for you. We promise you won't be disappointed.