Exhale is your basic triple threat. Offering yoga, barre, and cardio, the studio meets all your sweatspectations. We headed over to Exhale's Inman Park location to get sweaty in their signature Core Fusion Barre class. Read on for a play-by-play of the total tone session.
The Sweat Scale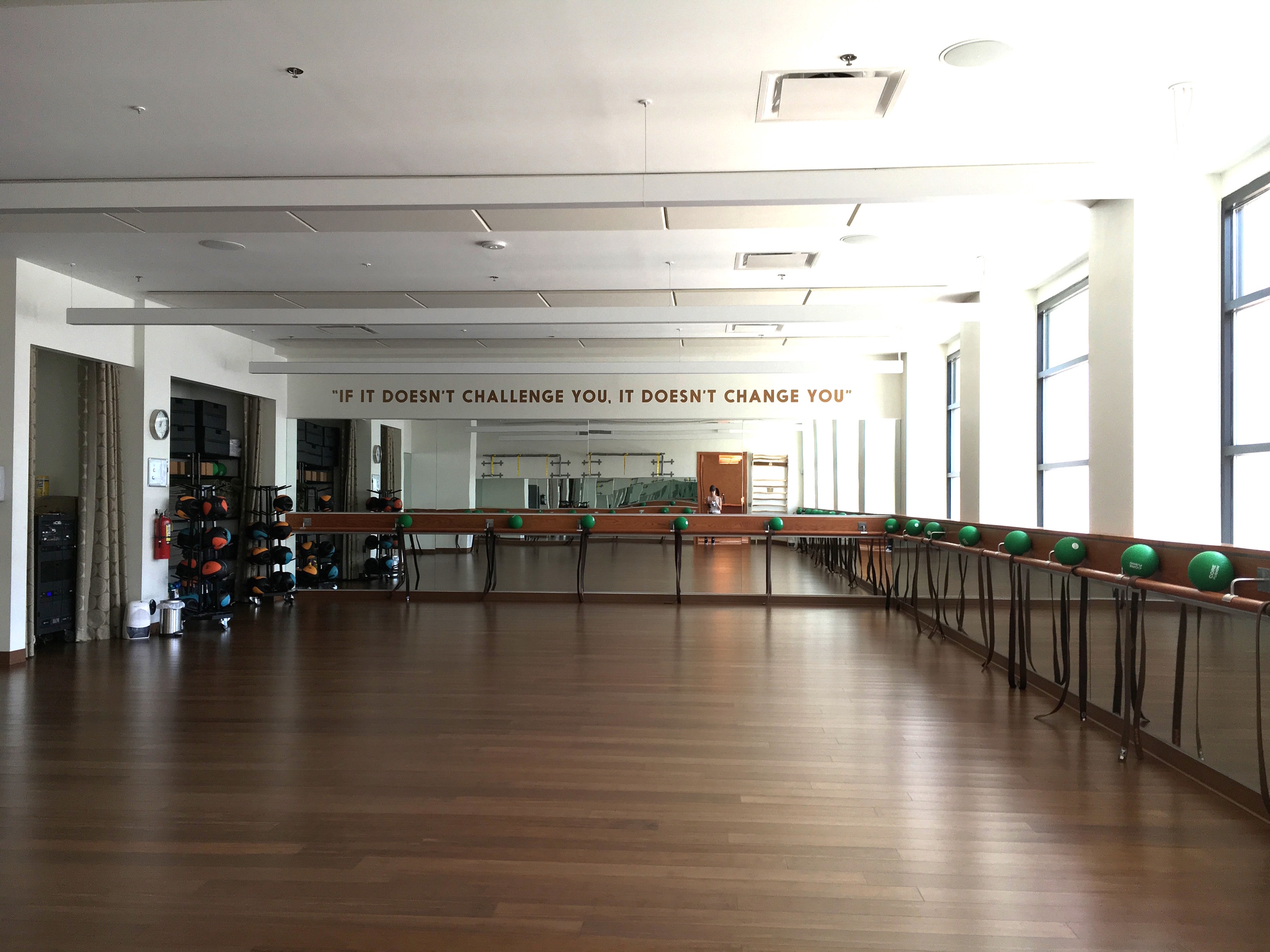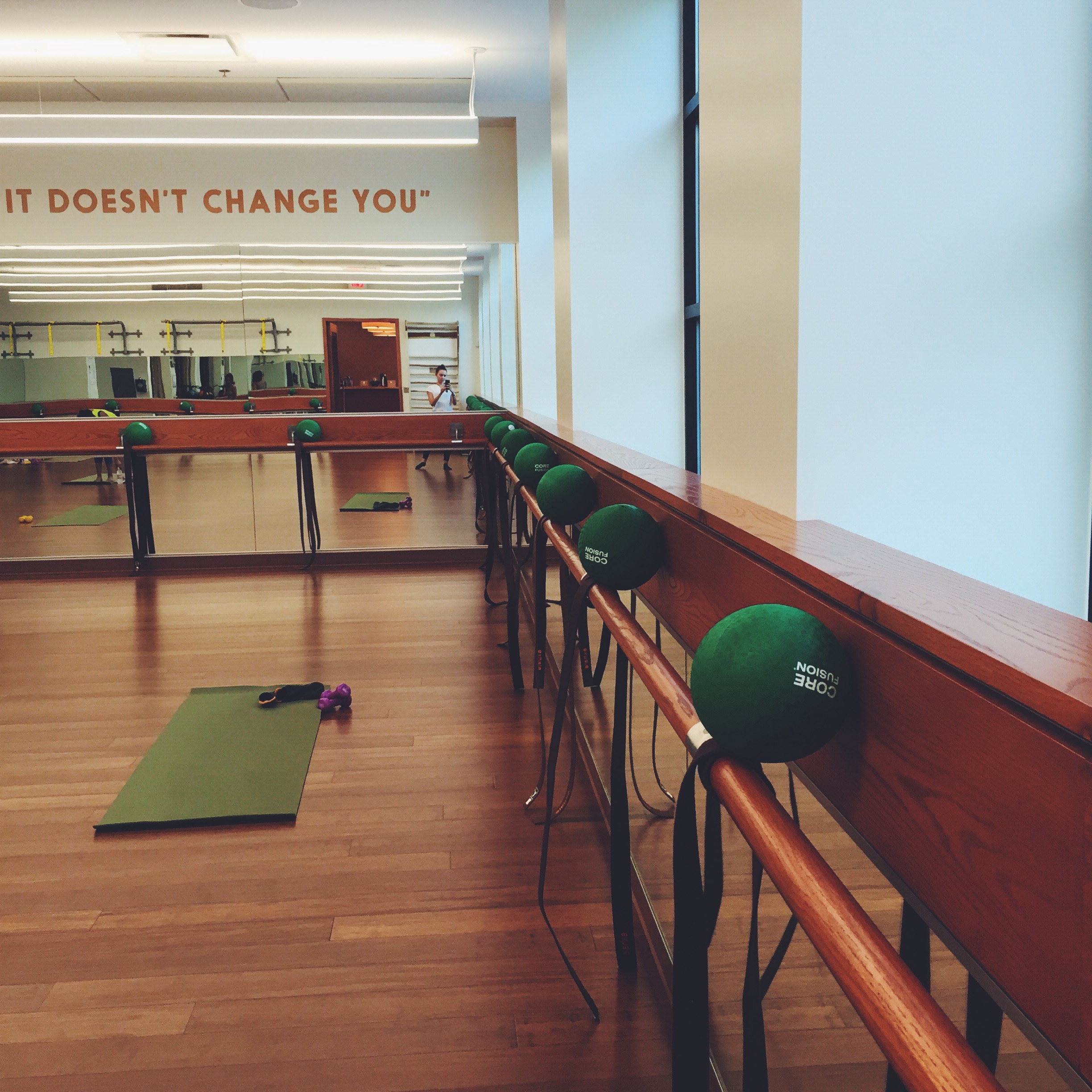 Like most barre classes, Exhale's Core Fusion Barre is light on the cardio, and heavy on the sculpting. If you're someone who needs your sports bra to be soaked in order to to feel like you've worked it out sufficiently, Core Fusion may not be your calling. That said, your heart rate will be up and running (perhaps even sprinting), thanks to all those inch-wide movements that work muscles you never realized you had. Be ready to feel the burn as you pulse your way through squats and push-ups.
The Workout
Core Fusion Barre packs full-body sculpting into a 55-minute class. The first and last five minutes of class are devoted to dynamic stretches, and the middle 40-minutes focus on major muscle groups, such as the arms, thighs, glutes, and core, in that order. You can expect to work in the center of the room as well as at the barre for a variety of small but mighty movements that burn deep. Think reps of push-ups and tricep dips on the floor, barre-supported squats and leg lifts, and core work that makes use of a rubber ball for an added challenge on the mat.
The class is kept interesting by way of variation, though–just when you think you can't crunch any higher or squat any lower, the instructor cues a change and you're onto the next exercise. This way, students can't justify slacking, since "you can do anything for eight more seconds," according to the instructor. Well played, Exhale, well played.
What to Wear and How to Prepare
First things first: socks are required for Core Fusion Barre. If you're a barre junkie who owns sticky socks (the ones with rubber on the bottom that makes for a good grip on the sometimes-slippery wood floor), pack them. If you're a barre virgin, have no fear–regular socks will certainly do. Anything goes up top, but we suggest leggings and a fitted shirt, since you're sure to find yourself holding a plank position at some point (and for longer than you'd like, to be honest).
The Atmosphere
Exhale's studio looks like no one's ever stepped inside, in the best way possible. The sleek space is immaculate, with wooden-paneled lockers and a bright white studio. Guests will find two bathrooms situated off the small changing room, along with complimentary towels and a "wellness boutique" at the front desk. Unlike other locations, Exhale's Inman Park studio lacks a spa facility and showers, so don't bank on a visit to the steam room post-class.
The Bottom Line
Core Fusion Barre is sure to please those looking to tone it up in a calm and collected (and clean!) environment. No blasting beats here, but a burn you'll feel good about for the rest of the day. Exhale your way to toned.
AMENITIES
✓ Free Towels
✓ Free Water
✓ Hair ties
✓ Mints
✓ Hand Sanitizer
✓ Lockers
✓ Lockers with locks
✓ Boutique
HAVE YOU been to this studio? Have you taken another class or tried out A DIFFERENT INSTRUCTOR? TELL US ABOUT YOUR WORKOUT AND RATE YOUR SWEAT!
Exhale (Inman Park)
280 Elizabeth Street
Atlanta, GA 30307
678-539-1220
Hours
Mon-Thurs: 6am-8pm
Fri: 6am-2pm
Sat-Sun: 8am-12pm

Facebook
Instagram: @exhalespa