Picture this: free yoga outdoors at dusk with hundreds of your sweaty peers and popsicles on deck for a post-workout treat. Sound like #dreams? Turns out it's reality at King of Pops's weekly Free Yoga in the Park. Peep the deets below.
THE SWEAT SCALE
The one-hour practice isn't exactly rigorous, as it's open to all levels (including those who have never tried yoga before), but it's a stellar way to wind down your Tuesday while giving your limbs some love in a beautiful, communal setting. KOPyoga happens outdoors and you'll probably sweat a bit because #Hotlanta, but don't expect a major heart-pumping flow.
THE SPACE
Situated between the beltline and the Old 4th Ward skatepark, there is plenty of room for you to roll out your mat and enjoy a full-body stretch. We recommend that you arrive early if you're looking to snag a spot toward the front, but don't worry, you'll still be able to hear the amazing Charlie Baxter Graham even if you're in the back row! No mat? No problem. A towel works well with the outdoor theme, and if you do have a mat, you might want to bring one anyway to protect yours from the grass.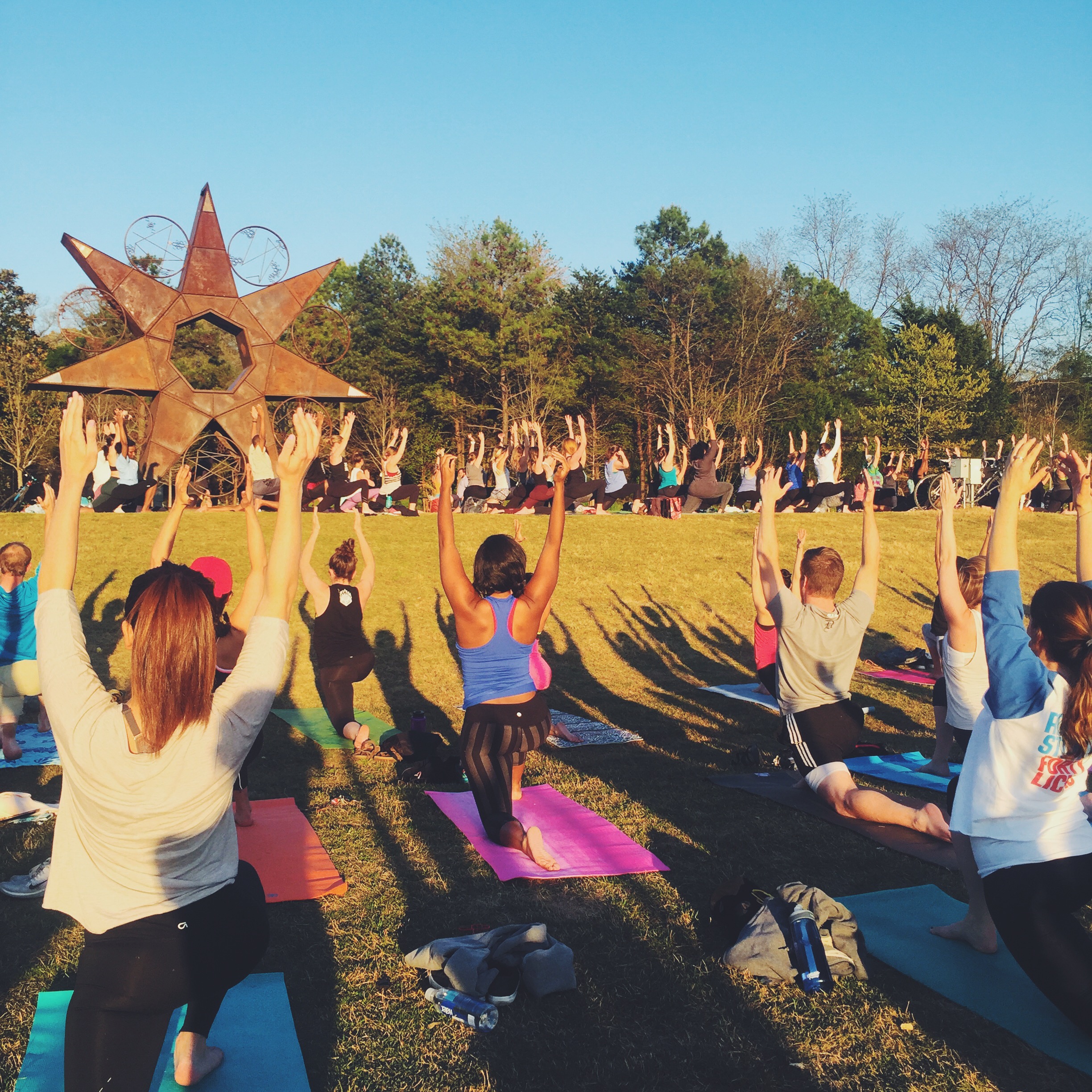 THE WORKOUT
KOPyoga is more about moving your body outdoors and in the company of others than fitting a super technical practice into your day. Though you'll definitely encounter a plank or two and be asked to lunge it out during the flow, it's unlikely that you'll feel sore the next day. The session starts with classic cat/cow stretching and a simple sun salutation series. From there, yogis and yoginis advance to poses like Warrior I and finally wind down with a quick Savasana. For cardio junkies and gym bunnies, think of it as your perfect "rest day" activity. For those of you brand new to yoga, think of it as your perfect introduction to the restorative, toning workout.
WHAT TO WEAr and how to prepare
Wear the usual – leggings, sports bra, and a tank. By 7 p.m., the sun is still going strong, so expect to be warm during the first part of the class (don't forget sunscreen if you're going the strictly sports bra route!) As the sun sets toward the end of your practice, you might wish to add a layer –think: a thin long sleeve or a light zip up. But remember, yoga doesn't care what you look like on the outside; wear whatever's comfy so you can focus on your breath and your poses!
Expert Tip! Arrive early to get a popsicle stick that grants you a free sweet treat from King of Pops after class. Head over to KOP's store window (a few blocks from the park) to cool off (literally) post-practice.
THE BOTTOM LINE
This free, weekly class makes for the perfect cap to your Tuesday, offering restorative benefits to yogis of all levels. Namaste!
Kings of Pop Yoga in the Park
Old 4th Ward Skatepark
766 Willoughby Way NE
Atlanta, GA 30312
Hours
Tuesdays 7-8pm

Instagram: @kingofpops