Hot 8 is a Los Angeles-based yoga studio chain offering the best yoga experience possible. I visited their brand new Koreatown location and can vouch: the eco-friendly classrooms and beautiful amenities, in addition to the extremely friendly staff, made me feel like I was at a spa more than an exercise studio. White walls, modern decor, and tons of natural sunlight make it the perfect place for your practice. Plus, they have delicious fruit-infused water and cool towels waiting for you after you sweat out all of your toxins in one of their state-of-the-art air purified and humidity controlled classrooms.
I walked into my Yoga Barre class on a Saturday morning and instantly felt the high vibes. Two of the walls are windows, looking out over Downtown LA, which made the room feel light and spacious. My instructor instantly introduced herself and wanted to learn more about me in order to tailor the workout to my needs. Never having taken barre before, I told her I was a bit uneasy, but she assured me that the exercises are all very straight-forward and should be no problem for a new student.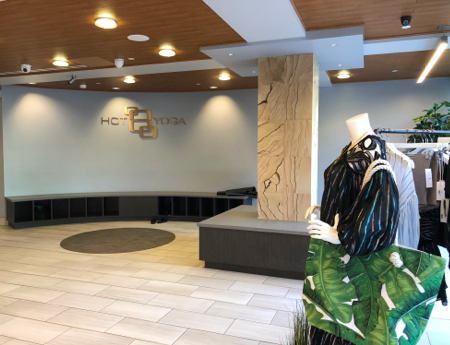 The class got started in Child's Pose, followed by a relaxing chest-expansion yoga flow. Not long after, the music started to pick up and we got into the small, pulsing movements that is barre. Although each exercise only lasted a matter of seconds, my muscles were on fire. Between the thigh-torching lunges and crunches using a lightweight exercise ball, barre movements were the majority of the class. The next morning I woke up with that feeling of soreness that I know means my workout was successful.
One of my favorites parts of the whole experience was Mariam, my instructor's, dope playlist; she played a mix of literally everything from 90s Hip-Hop to some old school Michael Jackson, and it all matched perfectly with her teaching. I highly recommend taking her class since she is an experienced yoga teacher and ballerina, making her adjustments and advice both reliable and beneficial.
If you're looking for a trendy workout in a super chill, Instagram-friendly venue, Hot 8 Yoga Barre is definitely the class to try. The studio offers a host of other classes like Hot Power Fusion, Sculpt, and even a Meditation SoundBath, however Yoga Barre seems to be their most popular. Even if you're not a big barre person, Mariam's class is not one to miss!