If you're reading this article, or The Sweat Scene in general, there's a good chance you're a part of the student population who makes time to work out at least a few times a week despite your busy schedule. Whether your motivation is to decrease stress, manage your weight, give yourself an energy boost, or any combination of these (plus others from the plethora of awesome things exercise does for you), I think we can all agree that working out is one of the best things you can do for your body. In order to really reap the benefits, you want a workout routine that's both effective and time-efficient. Unfortunately, while the SERF and Nat are both free and convenient campus rec centers, they're rather no-frills. They don't necessarily have top-of-the-line cardio machines, the weight rooms resemble dungeons with some squat racks and bench presses, and the instruction for group fitness classes typically falls short of exceptional. Rather than settling for mediocrity, check out some of the most popular boutique gyms on campus.
I know what you're thinking. "Boutique gym? Sounds expensive." Short answer: yes, it will cost you more out-of-pocket than swiping your WisCard at the SERF or the Nat. But, the health benefits of joining one of these specialty studios will likely surpass what you can do on your own at a boring rec center. Classes taught by high-quality instructors will push you to limits you never thought you could reach, and the variety of workouts offered will keep your body guessing better than a treadmill and some stationary strength equipment. Not to mention, the fact that you're paying for a membership will be a surefire incentive to get your booty to class. I've broken down five of the most popular nontraditional gym memberships on campus to give you an idea of where to get the most bang for your buck.
Conveniently located above Fresh at the corner of Lake Street and University Ave, this music-blasting, energy-activating, lights-flashing (possibly seizure-inducing–in the best way possible) cycling studio will have your heart pumping and legs working in no time. A single drop-in class rings in at $21, with a $1/class price reduction for each increased package size. If you're interested in a membership, you can get unlimited classes for $188 per month. Student pricing is offered but not listed on the Cyc website, so you'll have to stop in with your student ID to get the full details on that. They also offer a unique combo package with Pure Barre at Hilldale Mall: for $100 you can get 3 Cyc class passes along with 3 Pure Barre class passes. But, consider yourself warned that this package expires within 30 days of purchase, just like all the rest of Cyc's class packs that don't have an everlasting shelf life.
If you walk towards the capitol along State Street or down West Johnson Street, stop yourself from walking into Short Stack Eatery and head next door to the second floor of the Ovation apartment building. Here you'll find Dragonfly Hot Yoga, home of much more than just hot yoga. While all of Dragonfly's classes are heated to a sweat-inducing 95 degrees and they do offer 13 different variations of yoga, there are also two barre classes and two HIIT-based fitness classes available. This is the only BarreAmped-certified studio in all of Madison, so check out BarreAmped or BarreAmped Bootcamp and learn how to "shake to change" and tone your body in a new way. YogaUp and PowerUp are intense HIIT classes that will push your body to its limits with cardio and strength intervals in a heated space. These intervals are known for maximizing your caloric burn and producing that extra energy expenditure for 24-48 hours after your workout. Plus, each instructor teaches with their own flair and changes class up a bit each week, so you never have to worry about get bored with your workout. Drop-in yoga or fitness classes are $17 while barre classes come in at $25 a piece for non-members. As with most studios, your first class is free regardless of whether it's yoga, barre, or fitness. For students, your first unlimited month is $40 with a $69/month membership thereafter. Once again, look out for the fine print which requires a 3-month commitment if you choose to become a member after your introductory month, so be aware of that when signing up. Luckily, perks of being a member include unique member-exclusive events (like classes with live music or DJs), member discounts for any events open to the public, and free mat and towel rentals at every class.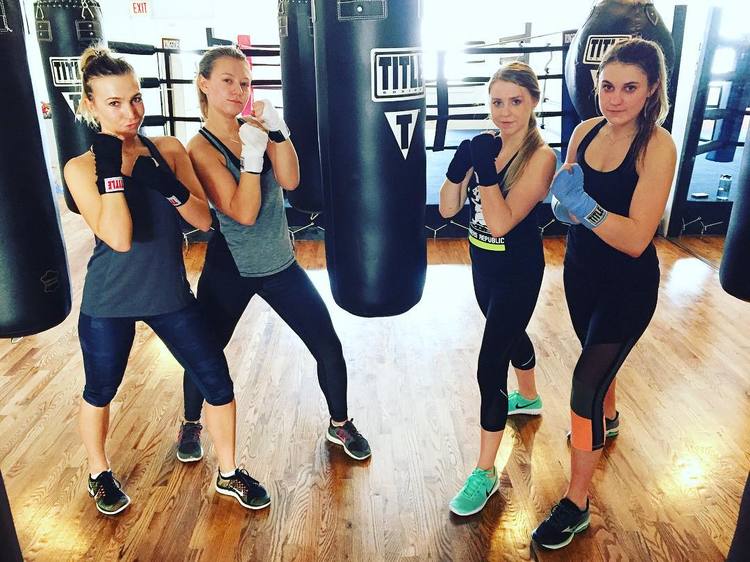 You can find this kick-ass workout over on Monroe Street, a bit off campus but not unreasonably far. The studio offers 3 signature boxing classes at scheduled times with open gym available during the rest of operation hours. Coming in at $22 per individual class, this is one of the most expensive drop-in rates of all the featured gyms. However, an introductory 10-class pack costs $150, bringing each class's rate significantly down to just $15. In case you want to test the waters before jumping fully into the ring, your first class is always free. Don't forget to read the fine print before signing up: gloves are available at no charge for each class, but hand wraps are also required and must be purchased in the house.
Next to the Cyc studio above Fresh, you can get your yogi fix at Inner Fire. This studio does focus primarily on heated yoga, yet still offers a variety of classes for all levels of yoga experience. For example, Slow 60 is well-suited for beginners who will eventually be able to work their way up to the more challenging Power 60 and Sculpt 60 classes that incorporate more cardio and strength work. Individual classes are $19 each with 5- and 10-class packages available for $79 and $130 respectively. Campus-only memberships (a.k.a. for students) are $49 for the introductory month and $89 on a month-by-month basis thereafter. Members also have access to member-exclusive events and discounted public events, which is a perk worth noting. If you're new to yoga and don't yet have a mat of your own, don't fret because mat rentals are free at your first class. It costs $2 for each rental after that, but you can always buy a mat in the small retail shop to bring to class with you.
Last but not least is Madison's newest gym, located right underneath the Hub and next to the also-new healthy haven Salads UP. This uniquely-formatted gym focuses on different muscle groups each day of the week with Saturday, Sunday, and Wednesday being "Total Body Workout" days. Just 50 minutes is all each class needs to combine cardiovascular exercise with intense strength training in a calorie-torching, metabolism-revving HIIT workout. Classes come at $20 a piece with class packages that allow the per-class price to decrease with each increased package size. Unlimited monthly memberships are $210 and remove the need to worry about class packages expiring. As an additional bonus, the gym even has its own smoothie bar to replenish your carbohydrate and electrolyte stores immediately following your workout. Doesn't sound too bad, huh?